18 October 2022
Interview with Ana Apolaro, VP of HR, ADM
It is no secret that the higher and higher up the corporate ladder we look, the less and less women we begin to see. In fact, as ADM's Human Resources VP for Latin America and DE&I Global Lead, Ana Apolaro, recently shared with us, the gender gap is almost non-existent for entry level positions but begins to grow around the middle manager level.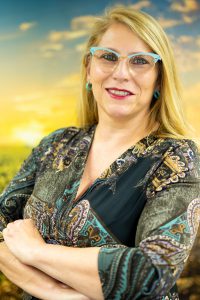 To help women shatter this glass ceiling, ADM created its Women's Employee Resource group, an initiative that brings together women and gender parity supporters from ADM offices around the world to advance the cause within the organization.
In the below conversation we find out more about the initiative's origins, how it has benefitted women within ADM, and how it goes about addressing the issue of gender parity around the world being sensitive to regional differences. We also asked Ms Apolaro for her opinion on how to best approach the subject of gender parity with those who might still be resistant to the idea.
[WFA] Can you give us a brief outline of how you came to be the HR VP for LATAM at ADM.
[Ana Apolaro] I joined ADM in 2016 as the South America HR Director. ADM has always inspired leaders to go for more in their careers offering expanded scopes based on a performance management and career development path. So, in May 2018, I double hatted as Global Human Resources Business Partner for Oilseeds, supporting the global oilseeds business unit. In 2020, our South America division expanded to cover the Caribbean and North LATAM, and I was offered to lead the entire LATAM. In February of the same year, I took over ADM's DE&I Global Strategy to further strengthen inclusivity within our organization.
[WFA] Can you give us a bit of background on ADM's Women's Employee Resource Group (ERG). When was it established and what led to its development?
[Ana Apolaro] At ADM, the issue of gender parity is a priority. In 2019, we were one of the first 100 companies to partner with Paradigm for Parity®, a coalition of business leaders dedicated to addressing the gender gap in corporate leadership. In 2021, through this partnership, we globally launched our Women's ERG, through which we promote discussions about gender parity in corporations and seek solutions that help us to increasingly reduce this gap in our own company. We currently have more than 1,000 members, which includes women and allies around the world.
[WFA] What does the initiative entail? What does it offer female employees and gender parity supporters within ADM?
[Ana Apolaro] ERG's main goal is to encourage discussion and promote ways to drive gender parity within ADM itself, empowering our female colleagues and bringing to light the fundamental role that allies play in this regard.
To this end, we have an agenda that includes regular meetings between members and allies of the Women's ERG, activities to build networking and alliances, platforms to encourage personal and professional growth, collaboration with departments, and initiatives such as Human Resources and the DE&I Regional Councils.
[WFA] On that, ADM is running the Women's ERG initiative across LATAM, EMEA, NA, and APAC. What are some of the key findings this has revealed about the state of gender parity in the agrifood industry around the world?
[Ana Apolaro] All over the globe, we have a very good gender balance at entry level up to entry level management positions. The gender gap usually starts growing at the middle management and senior levels. Seeing this we analyzed our "build and buy" recruiting strategy – which entails hiring from the market and developing talents internally – and have developed an action plan to close this gap in the next few years by guaranteeing that all final candidate slates have at least one female. We have also committed to restructuring our Talent Review Cycle so that it can better challenge promotions and accelerate development plans for women.
[WFA] Also, with the initiative covering so many different countries and cultures, how does ADM go about navigating and driving the issue of gender parity while being respectful of regional differences?
[Ana Apolaro] As a multicultural company, we know that each region has its own specificities based on its local customs and culture. Therefore, in order to ensure that our ERG program always respects our differences, we have a global committee of representatives from different parts of the world: Latin America, North America, Asia and Europe.
This global committee unfolds into regional committees, which, individually, take a closer look and implement actions aligned to local realities. When we look at ERG globally, we have an enriching exchange of views and experiences, which makes us look more empathetically beyond our own reality and supports us in creating a truly diverse and inclusive organization.
[WFA] What are some examples of how the Women's ERG has furthered gender parity at ADM? What concerns/ideas did the initiative raise that ADM has actively addressed/implemented?
[Ana Apolaro] One of the ADM Women's ERG's missions is to keep the topic of gender parity prominent among our diverse audiences. For example, global, regional and local committees establish ongoing communication with group members and allies, promoting opportunities for knowledge and skills development, such as webinars and targeted training. In addition, ERG members regularly interact with leaders, executives, and business teams to raise awareness about gender parity.
Another important action within the ERG's initiatives is our global mentoring program for women. This is a platform that supports our professional development of these women to develop female leaders for ADM's near future.
[WFA] What do you think is the best approach is to take with those who might still be resistant to gender parity? How do you convince them to join the cause or work around them to continue furthering the cause?
[Ana Apolaro] In my experience as an HR professional, I have seen that diverse teams deliver better results and performance. A team formed by different profiles is rich in many points of view and this is a great asset for companies, in any market, nowadays. This is the path towards which we are converging, and any thought or attitude that goes in the opposite direction will have no space.
Thus, I think that the best "convincing strategy" is to demonstrate the benefits that these social transformations bring to all of us. The world is evolving and so are societal behaviors. We have to transform ourselves and adapt to the new social configurations, where tolerance for excluding ideals is getting smaller and smaller.