17 November, 2022
The food and ag sectors have a unique image problem on their hands. Not only are they vital to answering the question of how we are going to feed a rapidly growing global population without putting more pressure on the Earth's already strained resources, but they are often painted as being environmentally unfriendly industries and climate offenders themselves.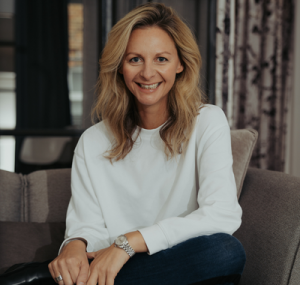 It is a narrative that French multinational food company, Danone, is working hard to change through various initiatives, including getting B Corp™ certified and through the company's own OnePlanet.OneHealth programme which is built on its belief that the health of the planet and that of the people on it are inextricably linked.
To find out more about how Danone is doing its part to reshape and rehabilitate the industry's image, WFA chatted to Nadine Küster, the company's General Secretary for Germany, Austria and Switzerland. Ms Küster – who first joined Danone in 2007 as Legal Director for the company's Medical Nutrition business – works with a dedicated team to support all of Danone's business divisions – Fresh Dairy & Plant based, Waters, Early Life Nutrition and Advanced Medical Nutrition – covering mainly the areas of Corporate Communications, Public Affairs and Sustainability, Legal, Regulatory Affairs and Compliance.
[WFA] Ms Küster, why do you think we should be prioritising improving the image of the industry?[Nadine Küster] From my point of view the question is more about building trust in our industry rather than improving the image. The food and ag industry has one key role to play: we need to feed the world's current and future population in a sustainable way. That's a huge
responsibility that impacts the health of people and the health of the planet. We in the industry cannot do this on our own. We must earn the trust of the consumers, farmers, governments and other key players to partner with us and successfully manage this challenge together.
[WFA] So, how do you think our sector is currently viewed by consumers? And how do we change that view and, as you said, earn their trust?
[Nadine Küster] What we have observed is that there is a huge shift in how consumers perceive the role that big multinational companies like ours should play. They are expecting higher verified levels of social and environmental performance, transparency and accountability. In essence, they want these companies to go from being problem causers to becoming solutions providers on a wide range of issues, like obesity, hunger, access to water, climate change or plastic pollution. We believe the solution here is for the industry to listen to these calls and move away from simply being providers of good products to being good companies. That is what we at Danone are aiming for.
[WFA] How do you think the reputation of the food and ag sector has impacted our aims to attract diverse talent to the industry?
[Nadine Küster] Having a good reputation is clearly great for attracting new talent. However, the overall reputation of the industry is, from my point of view, only one piece amongst many that matter to future hires. I believe that every company needs to work on their own individual reputation as an employer and that a truly diverse workplace culture should make up a key element of that process.
[WFA] So, what are you doing at Danone to improve your company image but also that of the industry?
[Nadine Küster] In line with our Danone – OnePlanet.OneHealth agenda, we have committed ourselves to honestly and transparently communicating through our company and product brand platforms on a variety of topics, chief amongst them being our sustainability plans and actions. We also regularly join forces with other players in the industry to improve progress on topics relevant to our sector. We also proactively invite friends with varying opinions to the table – like consumer advocacy group FoodWatch, for example – to engage with us and share their views on our activities. Danone also runs an ambassador programme which empowers and encourages our employees to share what we are doing and achieving through their own social media accounts. We are also in regular exchange with governments in the various markets we operate in to positively influence their health and sustainability agendas. These are just a few of the things we are doing at Danone to help change the narrative.
[WFA] Another way you are doing this is through B Corp certification. How does this contribute to the image of the business?
[Nadine Küster] B Corporations are for-profit companies certified by the non-profit organisation B Lab for meeting rigorous standards related to workers, the environment, customers, governance and communities. But B Corp™ is much more than a certification. It is a vision, it is a legal commitment enshrined in our company's statutes, and it is also a movement of people using business as a force for good to make a positive impact on people and the planet.
Since 2015, Danone has partnered with B Lab to help define a meaningful and manageable path to certification for multinationals and publicly traded companies, as well as accelerate growth of the B Corp™ movement into the mainstream. It is a unique label that meets the most demanding criteria in terms of performance, corporate responsibility and transparency.
70% of Danone's global sales are now covered by B Corp™ certification, marking significant progress towards achieving Danone's ambition to become one of the first certified multinationals. Danone's goal is to be fully certified across the company by 2025 and this signifies our long-term commitment to doing sustainable business, as well as fostering economic success and social progress.